Description
www.facebook.com/longhammerfarm
These are the Hammer Time bloodline. Very good fowl that dont need crossing but cross excellent with most fowl. These are great for beginners because u dont have to do much there just bad ass. $20 dollars a ticket it will be ran live on Valentine's day. Free shipping in USA or to broker in USA dont miss this opportunity of a life time. My brood pens are expensive I do not breed culls. For other blood lines matter of correspondence. Paypal or Walmart to Walmart also usps money order.
Payments & Returns
Payment Methods

Money Order

Returns Accepted

No
Postage & Shipping
Item Location

93202, California, United States

Ships To

United States
Postage Calculator
Select Country

Zip/Post Code

Quantity
Pick-ups

Buyer can pick-up

Shipping Instructions

Free
Public Questions
There are no messages posted.
You need to be logged in to ask the seller a question.
Click here to login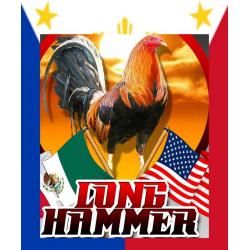 0 bids
39 days, 8h 14m
United States, California